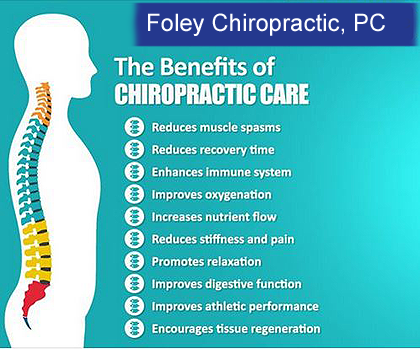 Chiropractic Care For Pain in Saratoga Springs New York

Chiropractic is a healing art that recognizes the nervous system as the primary determining factor of a person's health. The human nervous system regulates all life-sustaining functions such as movement, blood circulation, digestion, breathing, and immunity from disease. The nervous system is comprised of the brain and spinal cord, which resides inside the spine. Nerves branch out from the spinal cord, exit from between the bones of the spine (vertebrae), and divide numerous times until every cell in the body is reached. Nerves are like electrical wires that run through our body, and the brain is like a "generator" sending electrical impulses through these nerves to every single cell, telling them what to do. Thanks to this miraculous system, living in good health is possible-our digestive system automatically converts our meals into living tissue; our lungs automatically take in and extract oxygen from air; cuts and wounds automatically heal; and invading germs are automatically attacked and destroyed. Whenever the nervous system is functioning properly, optimum health is possible.
Chiropractors use the spinal adjustment as the main method of spinal correction. A spinal adjustment is a precise, manually delivered, gentle force into a stuck or misaligned joint. Adjustments improve range-of-motion (flexibility) and can result in a sensation of well being due to improved nerve and vascular (circulatory) function.
What Is A Subluxation?
Why an adjustment is done
Most often people seek chiropractic adjustment as a remedy for pain conditions, including: Low back pain Neck pain Headache, Sciatica, numbness and tingling
Each year in the United States, 1 in 4 adults experiences low back pain — a condition that can be frustrating and difficult to treat. Low back pain is the main reason why people seek chiropractic care. Research shows that chiropractic adjustment may offer mild to moderate relief from low back pain.
Chiropractic was developed in 1895 by Daniel David Palmer. He found that by working with the spine to remove fixations, could also give substantial pain relief. While Chiropractic has been predominately used as a way to relieve neck and back pain, it has also become a way of pursuing health and well being for many. Chiropractic is and should be part of every person's overall health regimen. By creating better motion in the spine, it helps the joints of the spine stay healthier longer and delays the onset of the degenerative processes that often affect the spine.